Weekend date to be settled - please contact us for more information
(to receive information fill in the form below)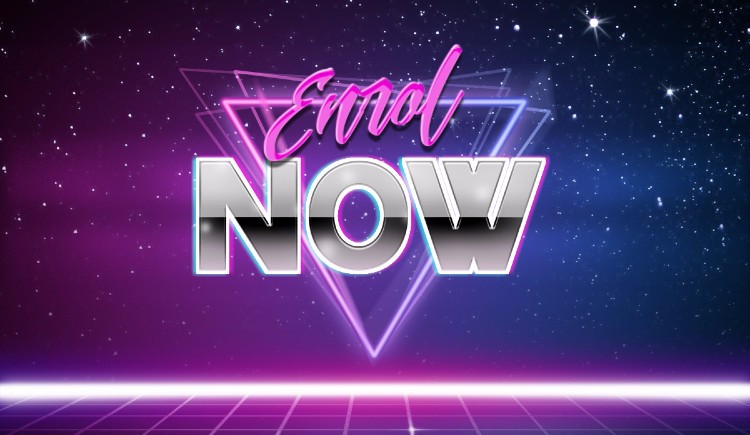 Totally English Weekend
3 faixas etárias:
* Jovens dos 15 aos 18 anos
* Estudantes Universitários
* Adultos em geral
3 age groups:
* Teenagers aged 15 to 18
* University Students
* Adults in general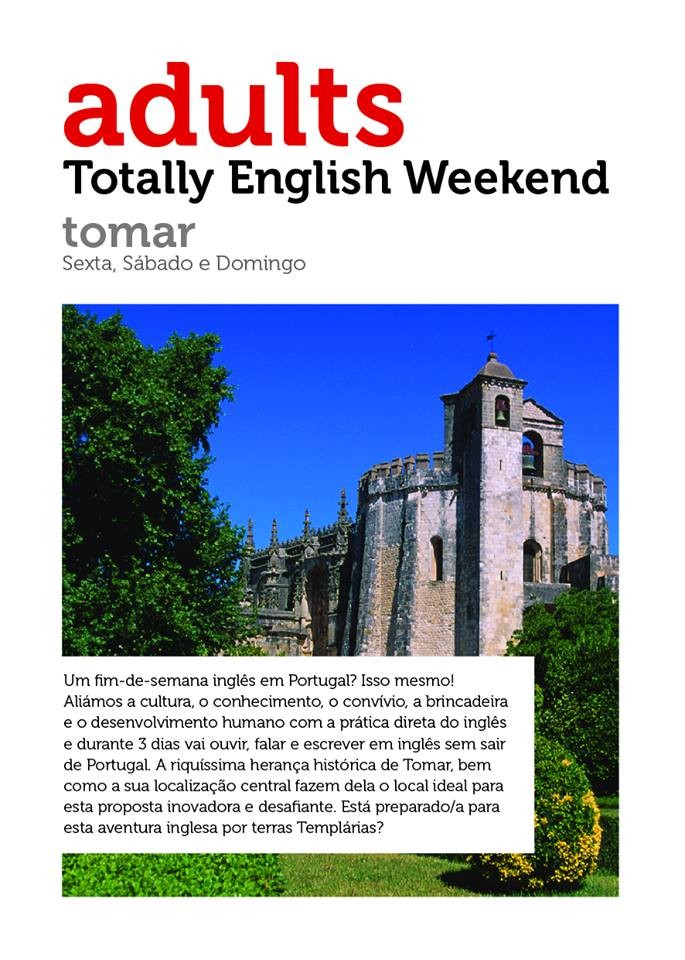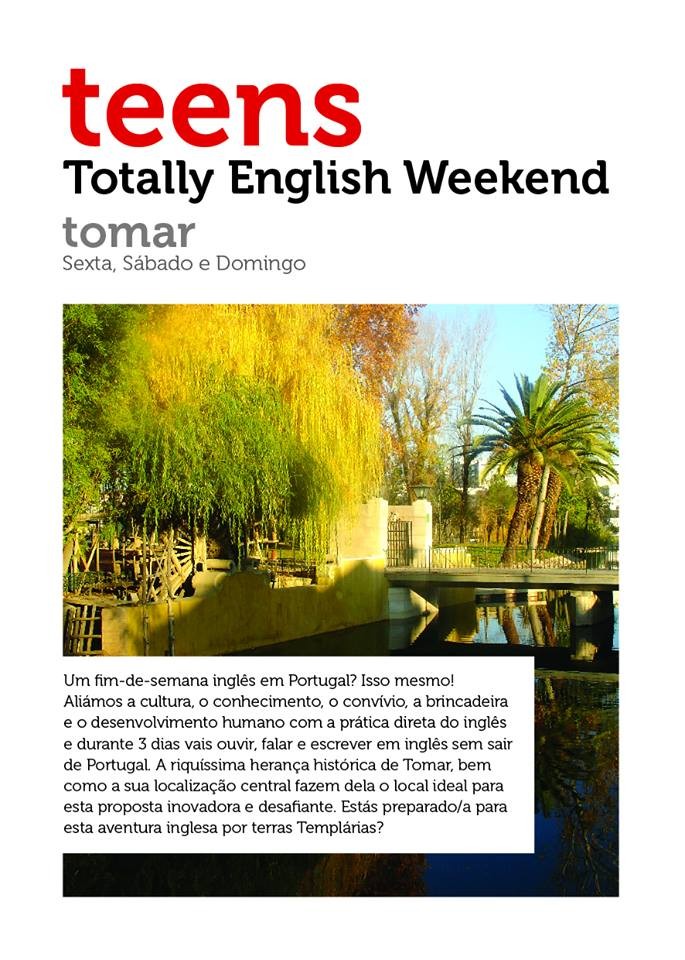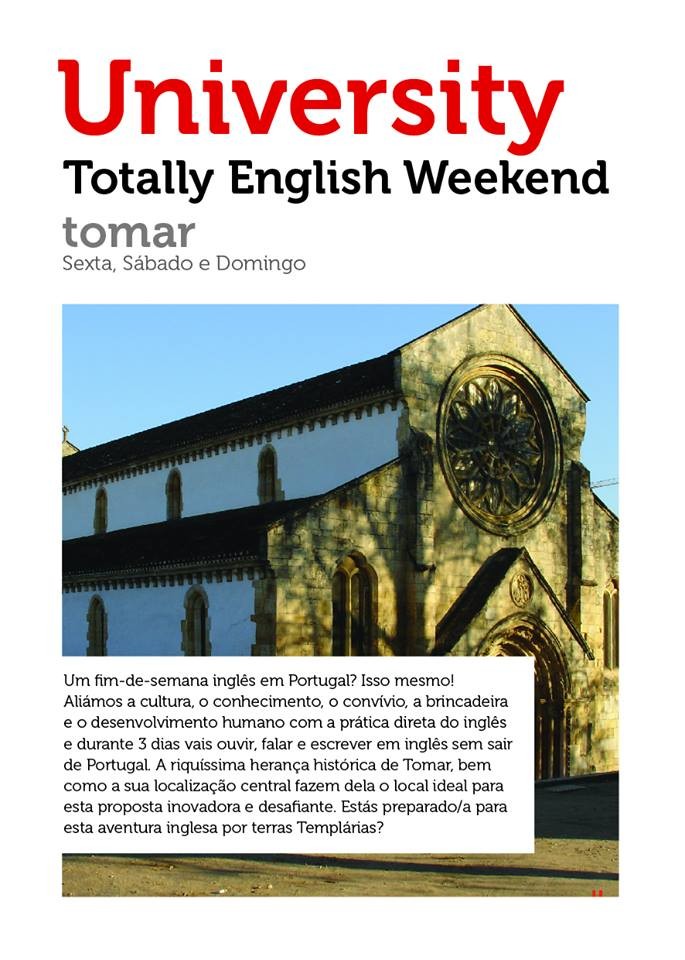 O Totally English Weekend é um fim de semana de atividades em inglês para todos os que estão a aprender esta língua e queiram beneficiar de alguns dias de prática intensiva de uso direto da língua em diversas circunstâncias, aliando o turismo à aprendizagem de novas competências quer intra quer interpessoais. Aliamos assim a produtividade de exposição e imersão na língua inglesa com propostas culturalmente ricas, em ambiente altamente interativo onde a comunicação em inglês se torna essencial, sendo a única permitida ao longo de todo o fim de semana.

Nível Mínimo de inglês necessário para participar: A2
Our Totally English Weekend is full of English activities for students who are learning the language and would like to undergo an intensive and practical experience where English is used in real situations, bringing culture and inter and interpersonal skills together. This is a weekend of total immersion in the English language through culturally rich interactions where all are encouraged to speak in English at all times during our 3 days together.
The minimum required level is A2.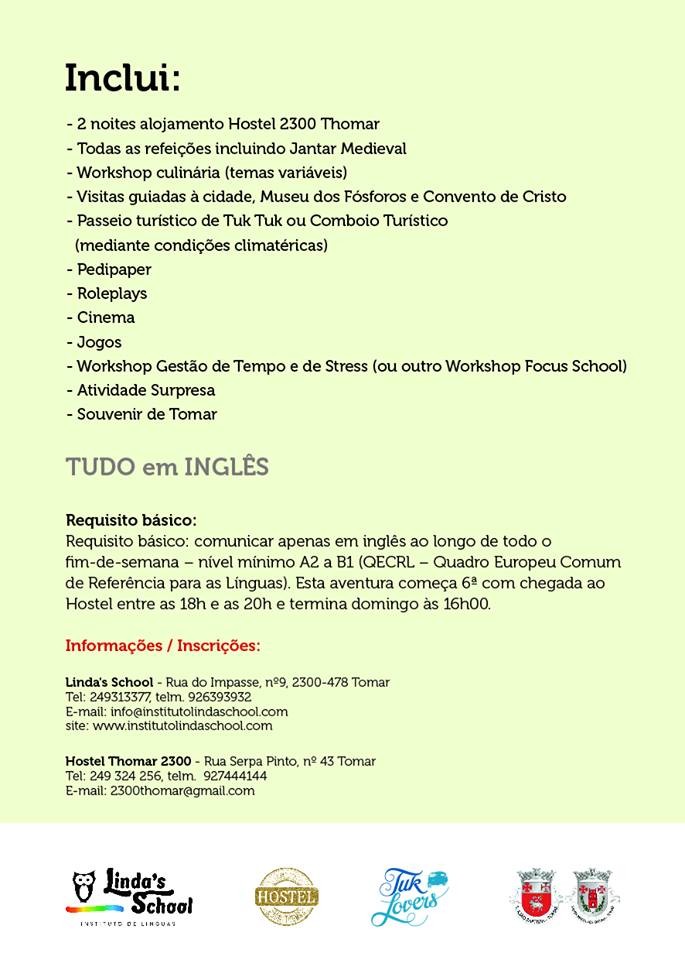 Nota: O Alojamento no Hostel é em dormitório não misto. Os hópedes que assim o escolherem poderão marcar um quarto duplo ou single, o que acrescerá ao preço base.
Note: Accommodation is intended to be in all-female/all- male dorms. Guests may choose to book a double or single room, which will be charged as a supplement.
Team/ Équipe/ Equipa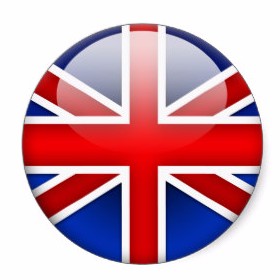 We are a Team of experienced English teachers whose passion for learning and teaching ensures great results. We are happy to welcome you onboard! Thanks for joining our school and giving us yet another opportunity to improve communication... in English.
Somos uma Equipa de professores nativos de Inglês com experiência e paixão por aprender e ensinar, assegurando excelentes resultados. Estamos felizes por poder dar-lhe as boas-vindas! Obrigada por se ter juntado à nossa escola, dando-nos mais uma oportunidade para melhorar as oportunidades de comunicação em inglês.
Course Curriculum
Introduction / Introdução
Available in days
days after you enroll
Content / Conteúdo
Available in days
days after you enroll
Frequently Asked Questions
How do I know the date of the Totally English Weekend?
Dates will be settled either with groups or periodically announced to all of our sbuscribers to this Event. Rest assured we will contact you! We can't wait to enjoy this weekend with you :)
Do I receive any extra material to study/practice for the weekend?
Extra material will be posted on the Course Curriculum and you will be notified of this by e-mail.
What if I register and change my mind later on?
You are entitled to a refund, minus the 50€ enrolment fee when cancelling up to 2 weeks prior to the event.